When I first came across this picture book I was wandering around a bookshop in 2002 with David aged 5 1/2, Caitlin aged 4 and Tom 1 year old, I picked it up, leafed through, and fell in love instantly. The simple text and gorgeous illustrations were so evocative, I could see Mothball (the wombat), full of personality, coming to life on the pages. It very quickly became a family favourite and we've since accumulated a few more books by the same fabulous team of writer
Jackie French
and illustrator
Bruce Whatley
.
A few years ago I bought a
board book copy of Diary of a Wombat
on sale to pop in the present stash, it's getting lonely in there so I'm pulling it out to add to my
Christmas give-away
.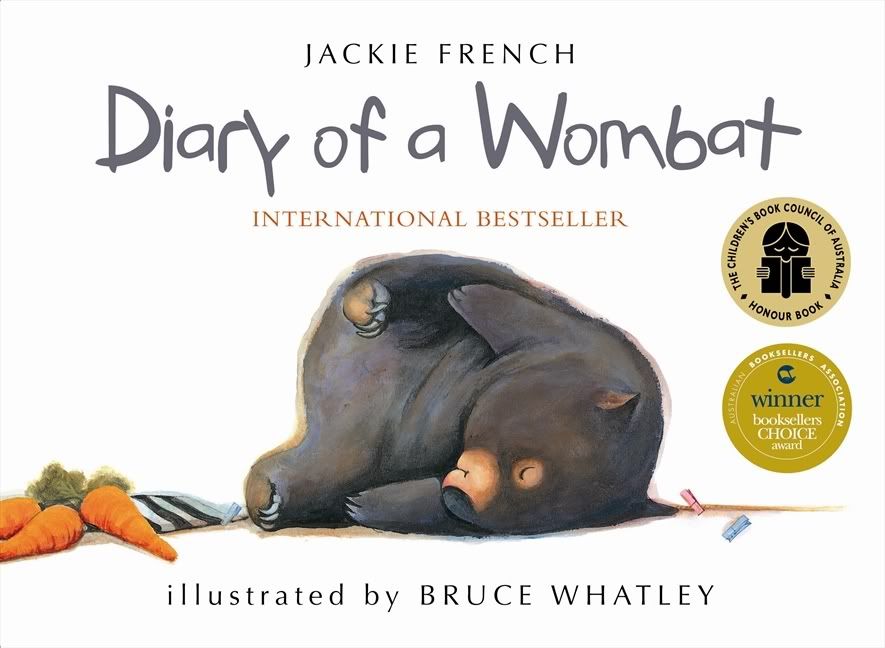 If you haven't yet met Mothball and her carrot obsession then you really, really must! Fortunately you don't even have to wait till you can get your hands on the book because there's an absolutely lovely piece for you to read over on Jackie French's website about the first time she met Mothball and how she came to write the book:
The Story Behind Diary of a Wombat
.
Oh, and your kids will probably like it too :-)